Feasts of Our Lady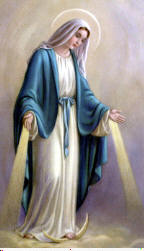 1 January - Mary, Mother of God
21 January - Our Lady of Altagracia
23 January - Espousal of the Virgin Mary
24 January - Madonna del Pianto (Our Lady of Tears)
2 February - Purification of Mary
4 February - Our Lady of the Flight into Egypt
11 February - Our Lady of Lourdes
25 March - Annunciation by Saint Gabriel
25 April - Our Lady of Good Counsel (at Genazzano)
26 April - Our Lady of Good Counsel (elsewhere)
13 May - Our Lady of Fatima
13 May - Our Lady of the Most Blessed Sacrament
24 May - Mary, Help of Christians
31 May - Mary, Mediatrix of All Graces
31 May - Visitation
3 June - Our Lady of the Holy Letter
9 June - Mary, Virgin Mother of Grace
27 June - Our Lady of Perpetual Help
2 July - Visitation of the Blessed Virgin Mary
16 July - Our Lady of Mount Carmel
17 July - Humility of the Blessed Virgin Mary
2 August - Our Lady of the Angels
5 August - Our Lady of the Snow
5 August - Our Lady of Copacabana
13 August - Our Lady, Refuge of Sinners
15 August - Assumption into Heaven
21 August - Our Lady of Knock
22 August - Immaculate Heart of Mary
22 August - Queenship of Mary
8 September - Nativity of Mary
8 September - Our Lady of Charity
8 September - Our Lady of Meritxell
8 September - Our Lady of Covadonga
12 September - Most Holy Name of Mary
15 September - Feast of Our Lady of Sorrows
24 September - Our Lady of Mercy
24 September - Our Lady of Walsingham
1 October - Holy Protection of the Mother of God
7 October - Our Lady of the Most Holy Rosary
11 October - Maternity of the Blessed Virgin Mary
12 October - Our Lady of Pilar
16 October - Purity of the Blessed Virgin Mary
11 November - Patronage of Our Lady
21 November - Presentation of Mary at the Temple
2 December - Our Lady of Liesse
2 December - Our Lady, Cause of Our Joy
8 December - Mary's Immaculate Conception
12 December - Our Lady of Guadalupe
18 December - Expectation of the Blessed Virgin Mary

Moveable Feasts
The Seven Dolors of the Blessed Virgin - Friday in Passion Week
Our Lady, Queen of the Apostles - Saturday after Ascension
Our Lady, Health of the Sick - Saturday before the last Sunday in August
Our Lady of Consolation - Saturday after the Feast of Saint Augustine (28 August)
Mary, Mother of Divine Providence - Saturday before 3rd Sunday of November

The Feast of 8 September originated in Jerusalem. In the 7th century, in the Byzantine Rite and at Rome, the Birth of the Blessed Virgin was celebrated this day. The feast is also celebrated on September 8 in the Syriac Rite and on September 7 in the Coptic Rite.

The Feast of Our Lady of Sorrows was originally granted to the Order of the Servants of Mary in 1667; it was introduced into the Roman Calendar in 1814 and assigned to the third Sunday in September. In 1913 the date of the feast was assigned to September 15.
Home | Eucharistic Adoration | Novena Links | Feasts of Our Lady | Prayer Links | Weight of One Mass?
email: jack@maryqueenofheaven.net
Copyright © 2007 Mary Queen of Heaven